Truegrid® Pro-Plus Pavers
Permeable Plastic Ground Stabilization Pavers
Truegrid® Pro-Plus Paver Features
100% Permeable
Industry best strength
100% Post-Consumer Recycled HDPE
Works with SuperSpot® Parking Markers
Engineered for heavy use
Detention under surface
May be Saw Cut for Curves & Trees
Deep Cells Eliminate Gravel Migration
Superior Patented Design
Flex joints prevent cracking with the movement of soils and seasons
X anchors leverage gravel to anchor grid across the site
H20, HS20 + Rates
Detention under surface
No Staking or Clips
Works in All Climates & Soils
May be Saw Cut for Curves & Trees
20 + Year, Virtually Maintenance Free Life
Remains Highly Permeable for Life of Project
No more ruts, puddles, or flooding
See More Technical Specifications
The paving industry's leading commercial permeable paver, TRUEGRID® PRO PLUS® is the engineer's go-to commercial paver for 100% permeable cover, detention, and stormwater management. Proven and trusted in millions of square feet of heavy-use commercial parking lots. Easy-to-install, virtually maintenance-free. Compatible with all TRUEGRID® accessories including SuperSpot parking markers.
Are we missing the specification you need? Please go to our Contact Us page and submit your question to us, or call 1-877-284-7760
DESIGNED SPECIFICALLY FOR COMMERCIAL USE
100 % pervious. 100% land use. Stormwater detention below. Commercial parking lots need a robust paving solution that can handle traffic and maximize land utilization. Pervious cover and under-the-parking lot detention provide valuable land savings not possible with concrete. Most importantly, TRUEGRID® offers the ability to build larger buildings as the parking lot is no longer coded as impervious. TRUEGRID® is a complete win for commercial parking.
SUPERSPOT COMPATIBLE
SuperSpot™ parking markers are the maintenance-free striping solution. Use SuperSpot™ parking markers to design your parking spaces and never have to re-stripe your lot. Use a variety of colors and the cellular grid to design, directional arrows, handicap signs, stripes, guides, and anything else you can think of.
PARKING LOTS
TRUEGRID® is the only permeable paver specifically designed for commercial and industrial grade parking lots. Built for heavy loads and high traffic, TRUEGRID® permeable paving surfaces provide a strong, durable, and stable surface that will outperform and outlast traditional paving methods.
ENVIRONMENTALLY-FRIENDLY
Maintain a natural aesthetic and mimic the way nature absorbs and filters stormwater. Do so while keeping the site temperature cool and comfortable. As rain filters through TRUEGRID®, the aggregate, and the soils below, bioremediation helps filter pollutants from the stormwater. The result is cleaner, naturally-filtered rainwater flowing into the water table and water supplies. Don't forget, TRUEGRID® is made from 100% post-consumer recycled plastic as well.
STORMWATER MANAGEMENT
Increase stormwater capacity with TRUEGRID® and reduce or eliminate inefficient detention ponds. A TRUEGRID® lot acts like a sponge to absorb and Retain water and reduce flooding.
GROUND STABILIZATION
TRUEGRID®'s incredible vertical compression strength and robust interlocks protect your surface from rutting, erosion, and instability for 20 + years.
HEAVY USE
Gravel-filled TRUEGRID® is H20/ HS20 rated plus, more than enough for any vehicle. High traffic applications? No problem. Engineered for all soils and climates, TRUEGRID®'s temperature range is -58F to 194F and the flex joints design works well with freeze-thaw cycles and seasonal soil movement.
PARKING WITH DETENTION
Why is TRUEGRID® the only permeable paving solution for commercial applications? It is the only permeable paver with the compressive and tensile strength, as well as, the balance of rigidity and flexibility to handle commercial vehicle traffic while creating an underground detention area for water to flow into.
TRUEGRID PRO PLUS Common Application Areas
Parking Lots
Equipment Yards
Truck Yards
Storage Lots
Auto Lots
Drive Lanes
Roadways
Construction Site Entrances
Fire lanes
Erosion Control
RV pads
Event Centers
Sports Venues
Dust Control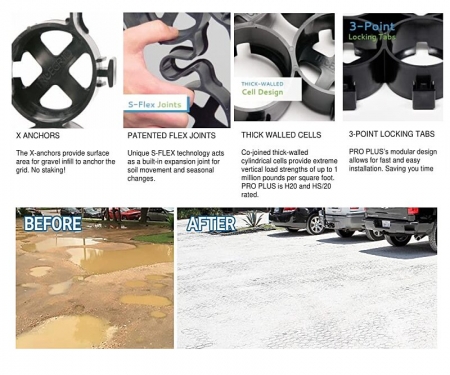 Have a question that is not answered here? Please go to our Contact Us page and submit your question to us.
---
WHAT IS TRUEGRID?
TRUEGRID is an eco-friendly paving alternative to concrete and asphalt that provides stability and stormwater detention. TRUEGRID is super durable and stormwater-permeable to reduce flooding as well as stop rutting and erosion by providing structure for ground stabilization. Park/drive on the TRUEGRID surface and detain water underneath.
WHAT MAKES TRUEGRID BETTER THAN THE REST?
TRUEGRID's patented design allows for the product to perform in high traffic/heavy load applications in all climates. The patented flex joints are the biggest differentiator. The combination of vertical compression strength and built-in flexibility is what truly sets TRUEGRID apart.
HOW HEAVY A LOAD CAN TRUEGRID HANDLE?
TRUEGRID products can handle anything that is on the road today including H-20 / HS-20 loading.
CAN TRUEGRID HANDLE HEAVY TRAFFIC?
Yes, TRUEGRID can be installed in driveways, commercial parking lots, and up to heavy industrial laydown yards. There are multiple TRUEGRID projects that have constant 18-wheeler traffic on a daily basis.
HOW LONG WILL MY TRUEGRID LAST?
25 to 60 plus years depending on traffic and application. TRUEGRID will typically outlast asphalt and last as long as or longer than concrete. TRUEGRID is produced from 100% Post-Consumer High-Density Polyethylene with added UV inhibitors.
WHAT MAKES TRUEGRID STAND OUT AS A PAVER?
The combination of vertical compression strength and built-in flexibility is what truly sets TRUEGRID apart from other pavers. The speed and ease of installation for the contractor or DIY'er due to no staking or tools.
CAN I INSTALL A TRUEGRID MYSELF?
Yes.
CAN I GROW GRASS THROUGH TRUEGRID?
Yes. You may seed, or use sod with TRUEGRID.
WHAT KIND of ROCK SHOULD I USE FOR BASE or FILL MATERIAL?
Base rock for detention and added drainage considerations should be angular, clean/washed rock, ¾" or 1" typical. If sub-surface detention is not a factor in your project, a compacted base such as recycled concrete or other road bases can be used.
You may use a wide variety of fill rock that is ½"-3/4" angular clean/washed, depending on what is locally available in your area and what the desired aesthetics of your project are. For ADA compliance it is best to use 5/8" diameter or smaller fill rock. TRUEGRID carries the load so it can be filled with a variety of aggregates.
HOW DO I PREVENT WEEDS FROM GROWING IN MY INSTALLATION?
TRUEGRID recommends a geotextile fabric to be installed between the subgrade and base material. This will not only act as a weed barrier but a separation barrier for your base material and the subgrade.
HOW DEEP SHOULD MY BASE LAYER BE?
Depending on the application, TRUEGRID recommends the base be between 4"-8". For most new commercial applications, the base will be 8" but can be increased if more detention volume is desired. TRUEGRID can also be installed directly on an existing gravel area to mitigate dust, mud and prevent long term maintenance.
DOES TRUEGRID NEED EDGING WHEN INSTALLED NEXT TO OTHER MATERIALS?
TRUEGRID does not require edging but it can be installed if desired. If transitioning to an adjacent hardscape you will want to ensure the TRUEGRID is flush or slightly recessed below the surrounding grade. See edging detail on our Technical Specs page.
DO I HAVE TO STAKE TRUEGRID INTO THE GROUND?
TRUEGRID does not require staking due to the built-in x-anchors. The fill material along with the weight of TRUEGRID will keep the system in place.
CAN TRUEGRID BE INSTALLED ON SLOPED GROUND?
TRUEGRID is designed for slopes up to 20 degrees. Anything greater, TRUEGRID recommends staking the product in place.
DOES TRUEGRID REQUIRE EXTRA CLIPS OR STOCKS TO LOCK IN PLACE LIKE OTHER PLASTIC SYSTEMS?
No, TRUEGRID requires no clips or stakes. TRUEGRID has built-in robust male/female connection tabs that simply snap together for quick installation.
WHAT ARE THE MAINTENANCE REQUIREMENTS FOR TRUEGRID?
Typically none. TRUEGRID is a maintenance-free system with stone infill. Grass infill will require water and mowing.
IS TRUEGRID PERMITTED IN MY AREA?
Typically, permeable surfaces are encouraged by most municipalities to reduce stormwater runoff and flooding. Check with your local permit office or your contractor for local coding. If we can help, please call or email us.
WHERE IS TRUEGRID MADE?
TRUEGRID is made in the U.S.A. out of quality USA raw materials.
IS TRUEGRID ADA COMPLIANT?
Yes, TRUEGRID projects are ADA complaint when transitions are kept less than ½" and aggregate of ½" or under is used. It is important to only fill the TRUEGRID flush to the top and not overfill. The TRUEGRID DECK is also ADA compliant and offers a gravel free surface while also 100% permeable.
WHAT IS THE WARRANTY?
Ten-year warranty for workmanship and manufacturer's defects. Check the installation contractor for installation warranty. CABLETIESANDMORE AND TRUEGRID do not directly provide construction or installation services and do not warranty installation.
CAN TRUEGRID BE SNOWPLOWED?
Yes. TRUEGRID stand up to snow plowing and snow blowers. It is recommended keeping the blade of the plow ½"-1" above the grid. This can be accomplished by roller guides or risers on the plow, if the Truegrid is properly installed and levelled.
WHAT TYPES OF SOIL DOES TRUEGRID WORK WITH?
TRUEGRID works with all soils and in all climates. For unstable soils, a geo-grid mesh or permeable pinpoint fabric may be helpful between the soil and the rock base. TRUEGRID integral flex joints allow it to hug the ground with any type of soil movement. It will not buckle and unzip like rigid systems.
CAN TRUEGRIDS BE INSTALLED IN ANY CLIMATE?
Yes. The temperature range of TRUEGRID products is -58ºF to 198ºF.
HOW FAST CAN I INSTALL TRUEGRIDS?
Fast! The panels are pre-assembled in 4'x 4' sheets. TRUEGRID can be installed at over 1000 sqft per man-hour. Also, TRUEGRID is plenty strong enough to drive full gravel trucks on the empty TRUEGRID before the rock fill. This ability speeds up the construction of a project tremendously.
HOW IS TRUEGRID ECO-FRIENDLY?
What are the environmental benefits of TRUEGRID? TRUEGRID is green from manufacturing through end-use. TRUEGRID is made from 100% post-consumer recycled HDPE. Using TRUEGRID allows stormwater to permeate through the aggregate or grass fill so bio-remediation can help remove pollutants from the water before it reaches the water table. Also, substituting TRUEGRID for concrete eliminates CO2 emissions from the manufacture of cement. In addition, TRUEGRID reduces the urban heat island effect associated with concrete and asphalt paving. Enter the square feet of your project on our Environmental Impact page to calculate your environmental impact and benefits for your specific project.
CAN I ORDER TRUEGRID IN OTHER COLORS?
Other colors can be special ordered. Because we must use virgin plastic there is an up-charge and minimum order quantity.
HOW DO I STRIPE MY PARKING LOT?
SuperSpots and/or SuperSpot Reflector may be used to stripe your parking lot. These are available in multiple colors and can be configured however you'd like. Typically, the spots are installed every foot or 18 per parking stripe. See SuperSpot striping details on our Technical Specs page.
HOW LONG WILL TRUEGRID STAY PERMEABLE?
For the life of the installation when filled with the recommended clean, washed fill aggregate.
DOES TRUEGRID HELP WITH FLOODING?
Yes, TRUEGRID reduces stormwater runoff by providing water detention volume in the gird and the sub-base.
CAN TRUEGRID BE USED IN LIVESTOCK/EQUINE APPLICATIONS?
Yes, TRUEGRID prevents muddy stalls, paddocks, swivels/walkers, Trailways and pens; helping to prevent hoof disease.
CAN TRUEGRID BE USED IN FIRE LANES?
Yes, TRUEGRID is the perfect option to provide soil stabilization for fire lanes and fire engines and emergency vehicles. TRUEGRID meets code and has been installed in many such projects across the country. TRUEGRID Fire Lane typical cross-sections can be found.
IS TRUEGRID H20 AND HS20 RATED?
yes
HOW CAN I TRANSITION A TRUEGRID LOT TO A CONCRETE OR ASPHALT LOT?
Install TRUEGRID 1/8" to ¼" below the concrete or asphalt where it transitions to TRUEGRID.
CAN TRUEGRID BE CUT TO FIT ANY SHAPE?
Yes, TRUEGRID can be easily cut on-site with a handheld power saw.
WHAT APPLICATIONS CAN TRUEGRID BE USED IN?
Virtually any paving application except for high-speed highways. Parking lots, equipment storage yards, driveways, fire lanes, sports fields, overflow parking, job sites, oil field rig sites, pathways, ADA compliant surfaces, horse and livestock stalls and trails, event parking, entertainment venues for parking and foot traffic, landscaping, temporary parking or heavy vehicle traffic, equipment pads, shed pads, hot tub pads, pool skirting, golf course paths.
HOW IS TRUEGRID MANUFACTURED?
TRUEGRID is injection molded in the USA from 100% post-consumer recycled HDPE.
WHAT IS HDPE?
High-density polyethylene, a tough, inert, groundwater neutral material.
WHAT IS LID?
LID stands for Low Impact Development where green, sustainable building techniques are used in new construction to minimize or eliminate the environmental impact of new development.
DO YOU OVERFILL WITH GRAVEL OR DO YOU WANT TO SEE THE GRID?
TRUEGRID recommends filling the gravel flush to the top of the grid. This keeps the gravel contained within the cells of the grid and prevents gravel migration. It also prevents any potential dust issues as the grid is the load-bearing structure so the fill material is not pulverized.
CAN I RECEIVE ANY LEED CREDITS FOR TRUEGRID?
Yes, there are 5 LEED categories for TRUEGRID
DO YOU HAVE TO BRING IN MORE GRAVEL OVER TIME?
No, as long as you only fill flush to the top of the TRUEGRID the gravel will be contained.
How is the product UV resistant?
HOW IS THE PRODUCT UV RESISTANT?
During the manufacturing process, a UV stabilizer is added to the HDPE.?
IS IT HIGH HEEL FRIENDLY?
Yes, as long as you use ½"-3/4" angular stone-filled flush to the top of the grid it will be high heel friendly.
CAN TRUEGRID HELP REDUCE OR ELIMINATE MY DETENTION POND?
Absolutely, the combination of 100% permeability and the 40% void space detention volume can for sure reduce if not completely eliminate the detention pond.
Why TRUEGRID?
Always available and easy to order. Just call and place your order when you are ready.
TRUEGRID products ship within 24 hrs. Direct to site…residential or commercial.
Industry best-patented design with integral flex joints that are necessary for project longevity and adaptability to any climate or soils. Robust connectors that allow for quick installation and will not separate. No staking, or clipping necessary.
Made in the USA and developed for overall strength, longevity, and ease of install.
No distributor markup. We give you the most product at the lowest cost direct from one of our USA factories.
Trusted by engineers and architects for long term performance.
Eco-Friendly from production to performance. Made from 100% post-consumer recycled HDPE.
TRUEGRID is customer-driven. We can assist from project design to installation. We are always available and happy to help.
Request a Quote
Looking for a quotation ? We would be happy to help by providing a quick response, inventory status, and Volume Level pricing, when available. Please fill out the form below and a representative will be in touch with you within hours to one business day to answer any questions and quote your request.