ChemaLine Tubing
Chemically Inert Clear Tubing - LDPE Liner | EVA Shell
ChemaLine Tubing Features
Inner Liner (contact surface) is made of clear, chemically inert (LDPE)
Outer shell is high-purity ethylene vinyl acetate (EVA)
Superior flexibility, clarity & good burst strength
Widely used in the water and printing industries.
very low gas and liquid permeability
REACH compliant & plasticizer free
See More Technical Specifications
Chem-A-Line meets the most stringent criteria for bio-pharmaceutical product transfer. They are also widely used in the water and printing industries.
The liner, (or contact surface), is made of a clear, chemically inert, low-density polyethylene (LDPE) material. The outer shell is manufactured from high-purity ethylene vinyl acetate (EVA), which gives superior flexibility and clarity along with good burst strength.
While Chem-A-Line and Chem-A-Line XL are made of the same base materials, Chem-A-Line XL is gamma-irradiated, which cross-links the material for even greater thermal, chemical and mechanical performance. Chem-A-Line is certified and it can resist attack from most solvents. It is plasticizer free and REACH compliant. Chem-A-Line has excellent barrier characteristics along with very low gas and liquid permeability. It works well with compression and other types of push-on fittings.
Are we missing the specification you need? Please go to our Contact Us page and submit your question to us, or call 1-877-284-7760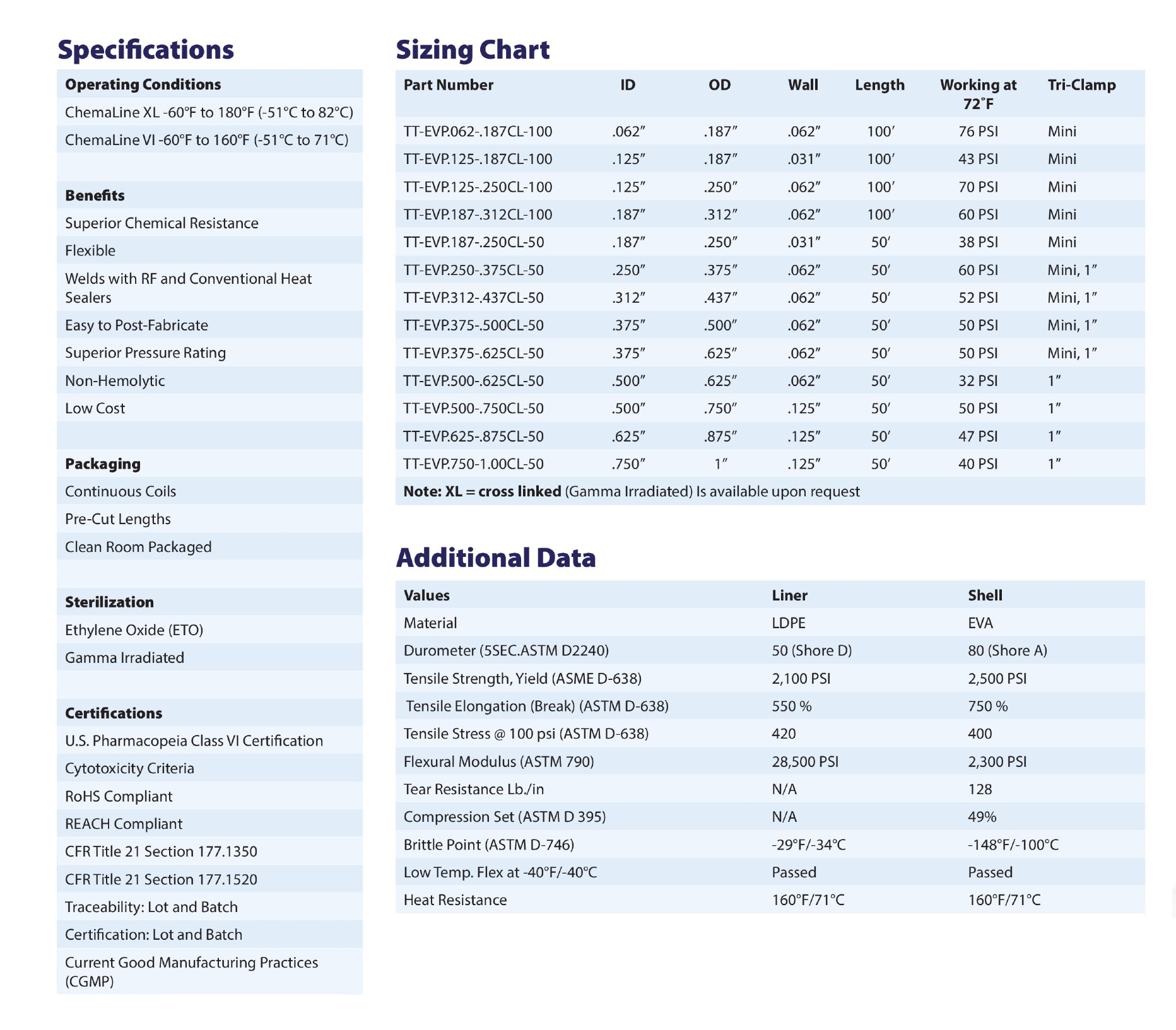 Have a question that is not answered here? Please go to our Contact Us page and submit your question to us.
---
Request a Quote
Looking for a quotation ? We would be happy to help by providing a quick response, inventory status, and Volume Level pricing, when available. Please fill out the form below and a representative will be in touch with you within hours to one business day to answer any questions and quote your request.