EnviraLine Co-Extruded PVC Tubing
Photo Opaque PVC with HytrelTM Liner
Envir-A-Line™ XX Co-Extruded Tubing Features
Length: 500 ft. Long
Color: Black
High purity
Low moisture permeability
Lightweight
Extremely flexible
Abrasion resistant shell
See More Technical Specifications
Envir-A-Line™ XX is commonly used for many gases and hydrocarbons. has a unique co-extruded construction, incorporating a highly inert Hytrel® inner-liner that exhibits excellent dielectric properties and provides a superior gas and moisture barrier. Its moisture permeability is similar to poly-ether based urethanes. The product's outer shell is comprised of a permeable photo-opaque black PVC, so the product can be repeatedly autoclaved without the two materials separating.
Used widely in the welding industry because of its superior barrier and dielectric characteristics, Hytrel® contains no plasticizers and does not outgas. The consistant quality and performance of Envir-A-Line™ XX is due partly to the industry leading thickness of our Hytrel® inner-liner thickness. Envir-A-Line is also commonly used in the beverage industry. The inner liner is compliant with NSF and FDA standards. *Also available with photo opaque hygienic white outer shell, and high pressure outer braiding for higher pressure applications.
Are we missing the specification you need? Please go to our Contact Us page and submit your question to us, or call 1-877-284-7760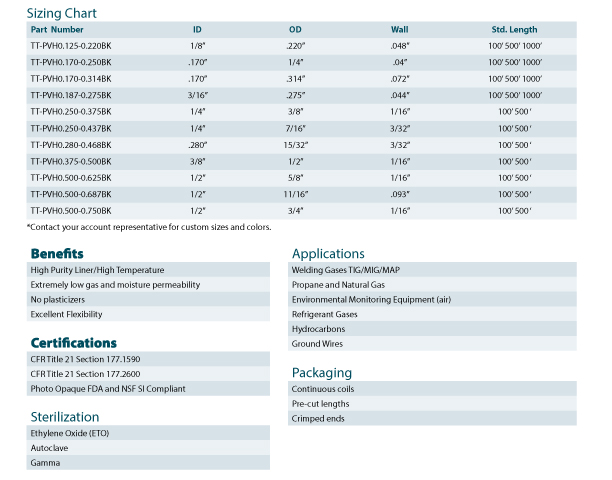 Have a question that is not answered here? Please go to our Contact Us page and submit your question to us.
---
Request a Quote
Looking for a quotation ? We would be happy to help by providing a quick response, inventory status, and Volume Level pricing, when available. Please fill out the form below and a representative will be in touch with you within hours to one business day to answer any questions and quote your request.