Custom Marked Zip Ties
CableTiesAndMore will customize your cable ties. We Are Able to Mark your cable ties up to 6 digits of you choosing such as:
Sequential numbers.
Company name.
Part numbers.
Serial number.
Messages.
Logos (We can help you to create/digitalizing your Logo)
For custom logos please call for quote on time and cost
Printing Fees do not include the cost of the Cable Ties/Tie Wraps
We can print on all Cable Ties/Tie Wraps with flat sides, excluding Stainless Steel Cable Ties
Please click here for our Cable Ties/Tie Wraps pricing and selection
Hot Stamping Prices

Hot Stamping Prices
Price per thousand ties
3000-5000
$62.95
5000+
$59.95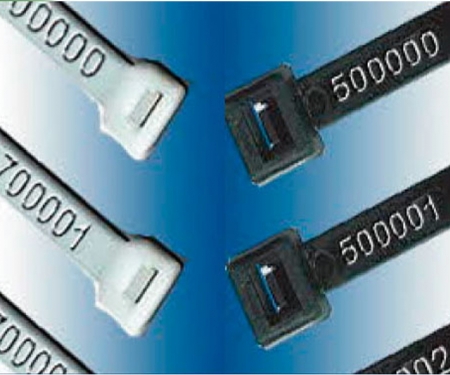 Looking for a quotation ? We would be happy to help by providing a quick response, inventory status, and Volume Level pricing, when available. Please fill out the form below and a representative will be in touch with you within hours to one business day to answer any questions and quote your request.
Your information will only be used to contact you regarding your quote request and will not be collected or used by Cable Ties And More for any marketing purposes.  See our Privacy Policy.