Dairy Flow® Milk Hose Tubing
Flexible in Sub-Zero Conditions | Phthalate Free | Low Taste & Odor
Dairy Flow® High Performance Milk Hose Tubing
Color: Blue
Length: 100 ft. Long
Extremely Low Taste & Odor
About 1/3 Lighter than Silicone
Resistant to Acids and Bases
Phthalate Free/ Animal Derived Ingredient Free
Phthalate Free/ Animal Derived Ingredient Free
Superior Tear and Abrasion Resistance
Extreme Flexibility in Sub-Zero Conditions
As Flexible as Silicone
See More Technical Specifications
DairyFlow milk tubing is engineered to address the specific needs of dairy farmers who work with raw milk hoses day in and day out. After listening carefully to milk producers, it has developed what we feel is the finest raw milk tubing available today. About one-third lighter than other raw milk transfer tubing, DairyFlow hoses are easier to lift and move. Our advanced material remains extremely flexible in sub-freezing conditions, which extends hose utility in colder months. Because DairyFlow hoses are highly resistant to sanitizing chemicals and to temperatures, they are extremely long-lasting. Unlike traditional silicone and rubber milk tubing, DairyFlow has superior tear resistance and does not shed carbon. We take milk quality and ecological concerns very seriously. Our DairyFlow tubing material is plasticizer-free, meaning it contains no phthalates which are known to cause environmental and health issues. In addition, we certify that we use no animal-derived lubricants in the manufacturing process, as these can potentially cause contamination of finished milk.
Are we missing the specification you need? Please go to our Contact Us page and submit your question to us, or call 1-877-284-7760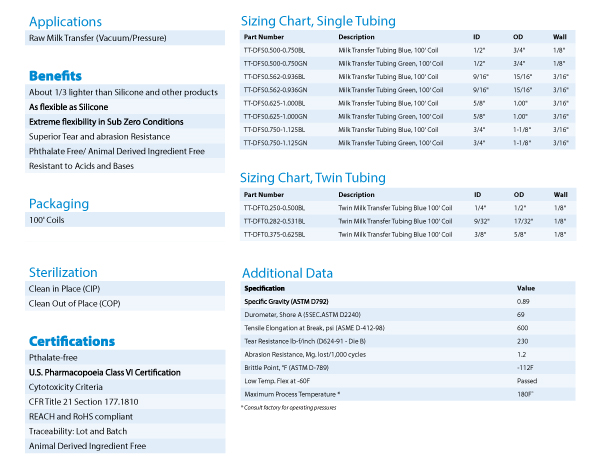 Have a question that is not answered here? Please go to our Contact Us page and submit your question to us.
---
Request a Quote
Looking for a quotation ? We would be happy to help by providing a quick response, inventory status, and Volume Level pricing, when available. Please fill out the form below and a representative will be in touch with you within hours to one business day to answer any questions and quote your request.