IGUS® E2 Medium Series 26 Snap Chain
Flexibility in Two Directions & Adjustable Length of the Loop
IGUS® E2 Medium Series 26 Snap Chain Features
Adjustable loops to easily bundle cables together
Loops are simple to change for shorter down times
Outer or inner radius opening for your convenience
2 sizes available to suit various applications
Limited bend radius protects cables for optimal performance
Durable long lasting design
Flexible in one or two directions
See More Technical Specifications
The IGUS® SnapChain flexible cable carrier breaks all of the rules as far as cable carriers are concerned. The typical design of side links and crossbars has been replaced with the concept of one side link with an adjustable loop. With flexibility in two directions and adjustable length of the loop at any time the SnapChain is the perfect replacement for expensive cable clips
Are we missing the specification you need? Please go to our Contact Us page and submit your question to us, or call 1-877-284-7760
TE14 & TZ14
| Part No. | Inner width Bi [inch] | Outer width Ba [inch] | Inner height hi [inch] | Outer height ha [inch] | Bending radius R [inch] |
| --- | --- | --- | --- | --- | --- |
| TE14-50-028-0 | 0.98 | 0.98 | 0.71 | 0.71 | 1.1 |
| TE14-50-038-0 | 0.98 | 0.98 | 0.71 | 0.71 | 1.5 |
| TE14-50-048-0 | 0.98 | 0.98 | 0.71 | 0.71 | 1.89 |
| TE14-50-075-0 | 0.98 | 0.98 | 0.71 | 0.71 | 2.95 |
| TE14-50-100-0 | 0.98 | 0.98 | 0.71 | 0.71 | 3.94 |
| TE14-50-125-0 | 0.98 | 0.98 | 0.71 | 0.71 | 4.92 |
| TZ14-50-028-0 | 0.98 | 0.98 | 0.71 | 0.71 | 1.1 |
| TZ14-50-038-0 | 0.98 | 0.98 | 0.71 | 0.71 | 1.5 |
| TZ14-50-048-0 | 0.98 | 0.98 | 0.71 | 0.71 | 1.89 |
| TZ14-50-075-0 | 0.98 | 0.98 | 0.71 | 0.71 | 2.95 |
| TZ14-50-100-0 | 0.98 | 0.98 | 0.71 | 0.71 | 3.94 |
| TZ14-50-125-0 | 0.98 | 0.98 | 0.71 | 0.71 | 4.92 |
TE26 & TZ26
| Part No. | Inner width Bi [inch] | Outer width Ba [inch] | Inner height hi [inch] | Outer height ha [inch] | Bending radius R [inch] |
| --- | --- | --- | --- | --- | --- |
| TE26-120-063-0 | 1.97 | 1.97 | 1.85 | 1.85 | 2.48 |
| TE26-120-075-0 | 1.97 | 1.97 | 1.85 | 1.85 | 2.95 |
| TE26-120-100-0 | 1.97 | 1.97 | 1.85 | 1.85 | 3.94 |
| TE26-120-125-0 | 1.97 | 1.97 | 1.85 | 1.85 | 4.92 |
| TE26-120-150-0 | 1.97 | 1.97 | 1.85 | 1.85 | 5.91 |
| TE26-120-200-0 | 1.97 | 1.97 | 1.85 | 1.85 | 7.87 |
| TZ26-120-063-0 | 1.97 | 1.97 | 1.85 | 1.85 | 2.48 |
| TZ26-120-075-0 | 1.97 | 1.97 | 1.85 | 1.85 | 2.95 |
| TZ26-120-100-0 | 1.97 | 1.97 | 1.85 | 1.85 | 3.94 |
| TZ26-120-125-0 | 1.97 | 1.97 | 1.85 | 1.85 | 4.92 |
| TZ26-120-150-0 | 1.97 | 1.97 | 1.85 | 1.85 | 5.91 |
| TZ26-120-200-0 | 1.97 | 1.97 | 1.85 | 1.85 | 7.87 |
Typical applications:
Control box construction
Electrical appliances
Computer cabinets
Any place where cables move back and forth
Click the image below to view more details.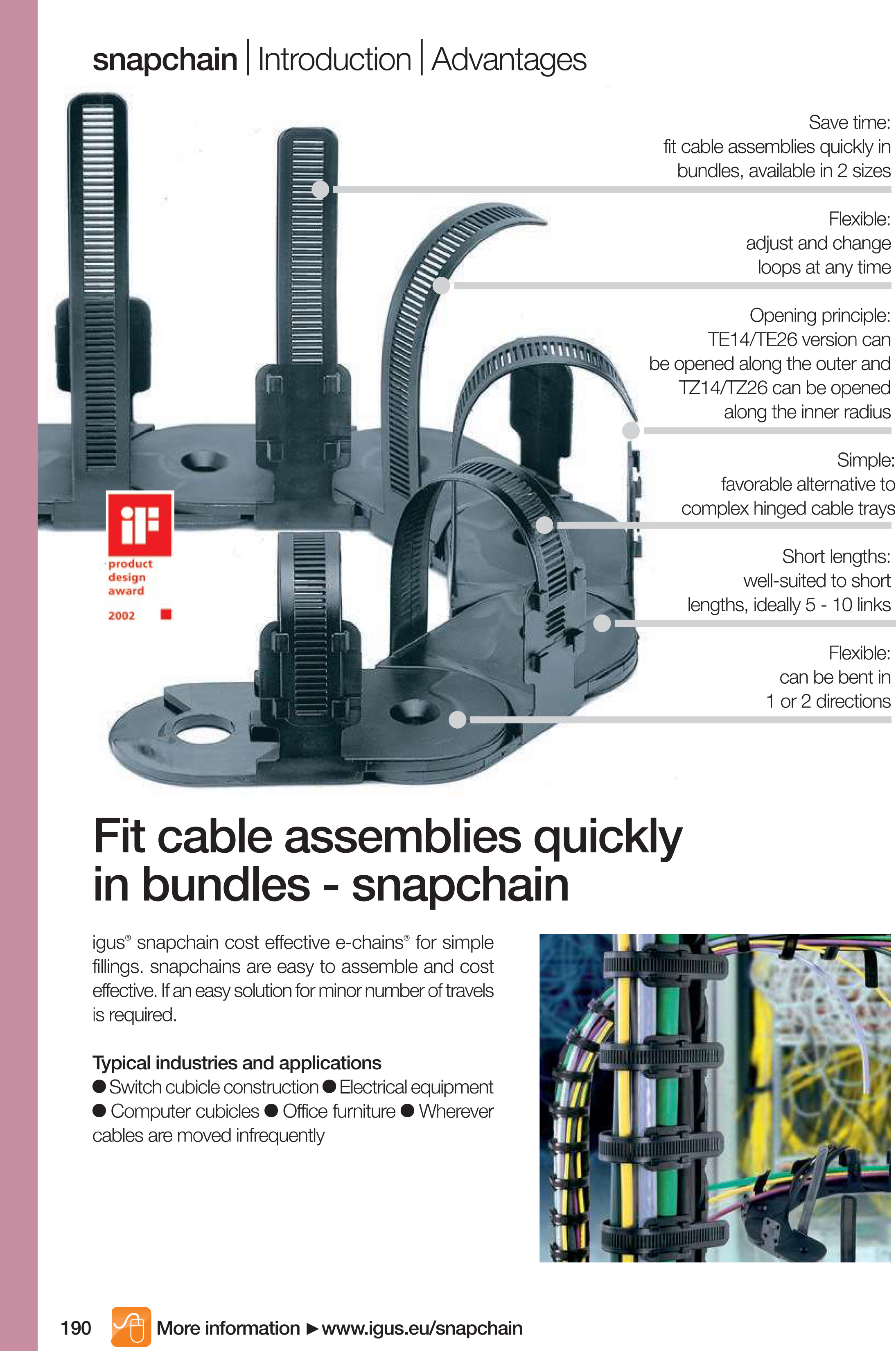 Have a question that is not answered here? Please go to our Contact Us page and submit your question to us.
---
Request a Quote
Looking for a quotation ? We would be happy to help by providing a quick response, inventory status, and Volume Level pricing, when available. Please fill out the form below and a representative will be in touch with you within hours to one business day to answer any questions and quote your request.