IGUS® E-Chain Series 15 Zipper Cable Carrier
Zipper-Like Design For Quick Opening & Closing to Provide Easy Access
IGUS® E-Chain Series 15 Zipper Cable Carrier Features
Zipper-like design for quick opening and closing to provide easy cable access and maintenance
Mounting brackets with strain relief for more durability
Various bend radii to accommodate just about any installation
Limited bend radius protects cables for optimal performance
Lids can be separated and joined at each chain link
High stability for a smooth run
Rigid construction for long service life
See More Technical Specifications
The Series 15 IGUS® Zipper is a chain cable carrier with a very advanced design. The "zipper" configuration allows the user to access the links by simply pulling the top part off in an easy unzipping motion. Quickly snap the cover back on, and the carrier is back on track; not only does it save time, but it's also easy to use. This product can help shorten downtime, makes troubleshooting easier, and allows lightning-fast replacements. This is a smart investment for anyone in this industry.
Are we missing the specification you need? Please go to our Contact Us page and submit your question to us, or call 1-877-284-7760
Material Specifications
Material (chain): igumid NB
Material (mounting brackets): igumid G
Permitted Temperature: 22℉/212℉ (-30℃/+100℃)
Gliding Speed Max.: Conditionally suitable
Unsupported V Max.: 32.8ft/s (10m/s)
Flammability Class (chain): VDE 0304 IIC UL94 V2
Flammability Class (mounting brackets): VDE 0304 IIC UL94 HB
Click the image below to view more specifications pertaining to this product line, from feature highlights to installation dimensions.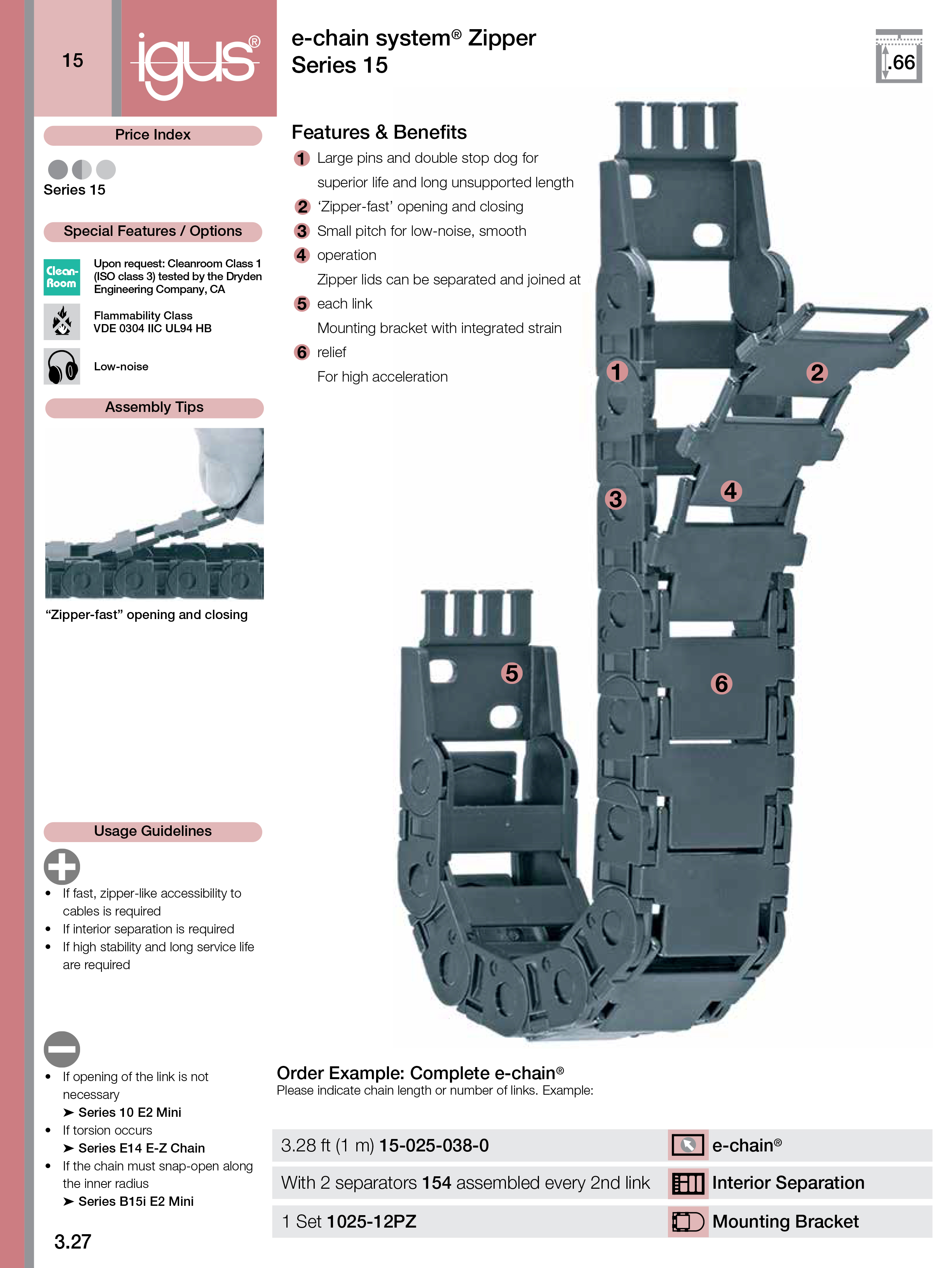 Have a question that is not answered here? Please go to our Contact Us page and submit your question to us.
---
Request a Quote
Looking for a quotation ? We would be happy to help by providing a quick response, inventory status, and Volume Level pricing, when available. Please fill out the form below and a representative will be in touch with you within hours to one business day to answer any questions and quote your request.