WireTrak Cable Raceway On a Roll
Hinged Lid Raceway is Rolled In Box to Use Less Space
WireTrak® Cable Race Way On a Roll Features
Self-adhesive backing makes it simple to install on a baseboard or wall.
Easy to Transport & Dispense at Job Site
Hinged Lid On Raceway Allows for Easy Access to Cables & Wires
Eliminates Waste: Use Only What is Needed
Numerous Accessories Available
Made From UL Flame Resistant PVC
Paint-able to Match Any Decor
Available in 3 Different Sizes for Unique Accommodation
Raceway Completely Regains Proper Shape After Being Pulled From Box.
From a 20 inch dispenser box, you can simply pull up to 100 feet of completely formed raceway, instantly ready for use. No waste, as each time you use only what you need. Push the extra raceway back though the forming/recoil device and it recoils itself back in the box ready for next time. The Wire Trak Form Raceway integrated lid latches closed securely and may be opened and closed continually without degradation of the hinge.
Are we missing the specification you need? Please go to our Contact Us page and submit your question to us, or call 1-877-284-7760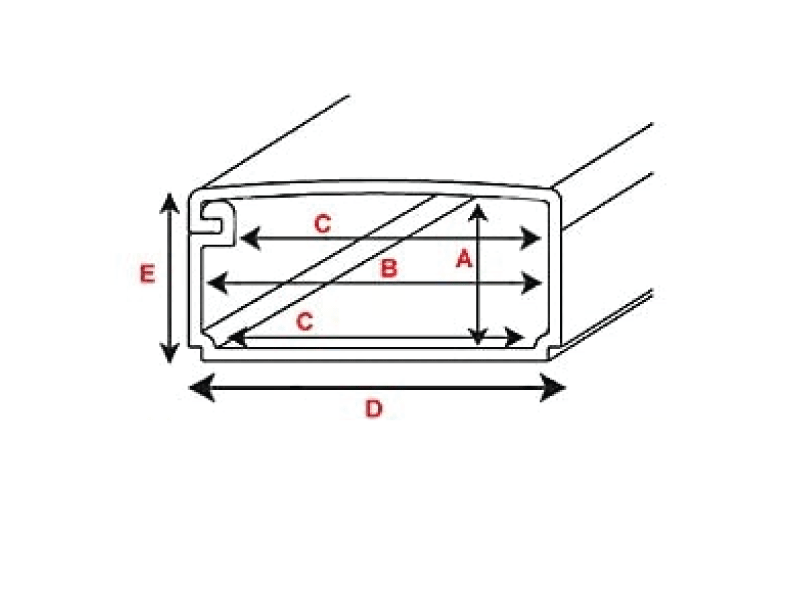 MODEL
A
INSIDE HEIGHT
B
CHANNEL WIDTH
C
CHANNEL WIDTH
D
TOTAL WIDTH
E
TOTAL HEIGHT
WALL THICKNESS
TAPE WIDTH
375SR
10mm 0.39"
17mm 0.67"
13mm 0.51"
20mm 0.79"
13mm 0.51"
0.050"
0.500"
500SR
10mm 0.39"
23mm 0.91"
19mm 0.75"
25mm 0.95"
13mm 0.51"
0.050"
0.750"
1125SR
16mm 0.63"
36mm 1.42"
32mm 1.26"
38mm 1.50"
20mm 0.79"
0.050"
1.000"
Material
Rimtec 4314A Natural Rigid PVC
Color
White
Length
30" (per piece) [76,2cm]
Width
4.5" [11,4cm]
Thickness
0.5" [1,27cm]
Weight
2.31 lbs (1.06 kg)
Specific Gravity (± 0.02)
1.43
ASTM D-792
Hardness (durometer D/10 ± 2)
80
ASTM D-2240
Izod Impact, ft lbs/in notch
19.0
ASTM D-256
Tensile Yield Strength, 103 psi
6.0
ASTM D-638
Tensile Modulus, 105 psi
3.7
ASTM D-638
Flexural Yield Strength, 103 psi
11.4
ASTM D-790
Flexural Modulus, 105 psi
4.5
ASTM D-790
DTUL at 264 psi (18.5 kg/cm), ℃
Unannealed: 70 Annealed: 75
ASTM D-648
Have a question that is not answered here? Please go to our Contact Us page and submit your question to us.
---
Request a Quote
Looking for a quotation ? We would be happy to help by providing a quick response, inventory status, and Volume Level pricing, when available. Please fill out the form below and a representative will be in touch with you within hours to one business day to answer any questions and quote your request.