Kable Kontrol® Assorted Solder Seal Heat Shrink Wire Connector Kit
Assorted Sizes | Waterproof & Moisture Resistant | 120 Pc Kit
Kable Kontrol® Heat Shrink Butt Connector Kit Features
Pack Quantity of 120 Pcs
Assorted Colors of Red, White, Blue & Yellow
Excellent conductivity
High transparency, High tensile strength
Excellent stretch and mechanical damage resistance
High elasticity assures steady performance
Waterproof and moisture resistance
Operating temperature: -55°C – 125°C
Minimum shrink temperature: 180°C
RoHS complaint
Materials Insulation: Polyolefin
Terminal body: Copper
See More Technical Specifications
Kable Kontrol® Assorted Heat Shrink Butt Connectors are made of Polyolefin, with adhesive lining for protecting splices from water and corrosion. These heat shrink wire connectors provide strain relief and protection from vibration in rugged environments and also offer protection and insulation from abrasion, scraping & scratches, and cutting. Color hot-melt glue on two ends of heat shrinkable tube, connecting wires to component terminals, such as motor tabs, connector pins, and switch terminals, it is very convenient to use the exact wire dimension. The main applications for these Heat shrink butt connectors are connecting Wires, Encapsulation, Inspectability, Insulation, Strain relief also used for the controlled soldering process. Kable Kontrol Heat shrinks solder seal connectors offer long-term performance, easy installation, and a low installed cost, which is more reliable than conventional crimp terminals.
Are we missing the specification you need? Please go to our Contact Us page and submit your question to us, or call 1-877-284-7760
Colors

Cable Size (AWG)

Lead Section (mm2)

Pcs/Set

White
22 - 24
0.25 - 0.5
30
Red
22 - 18
0.5 - 1.5
40
Blue
16 - 14
1.5 - 2.5
40
Yellow
12 - 10
4 - 6
10
Total
120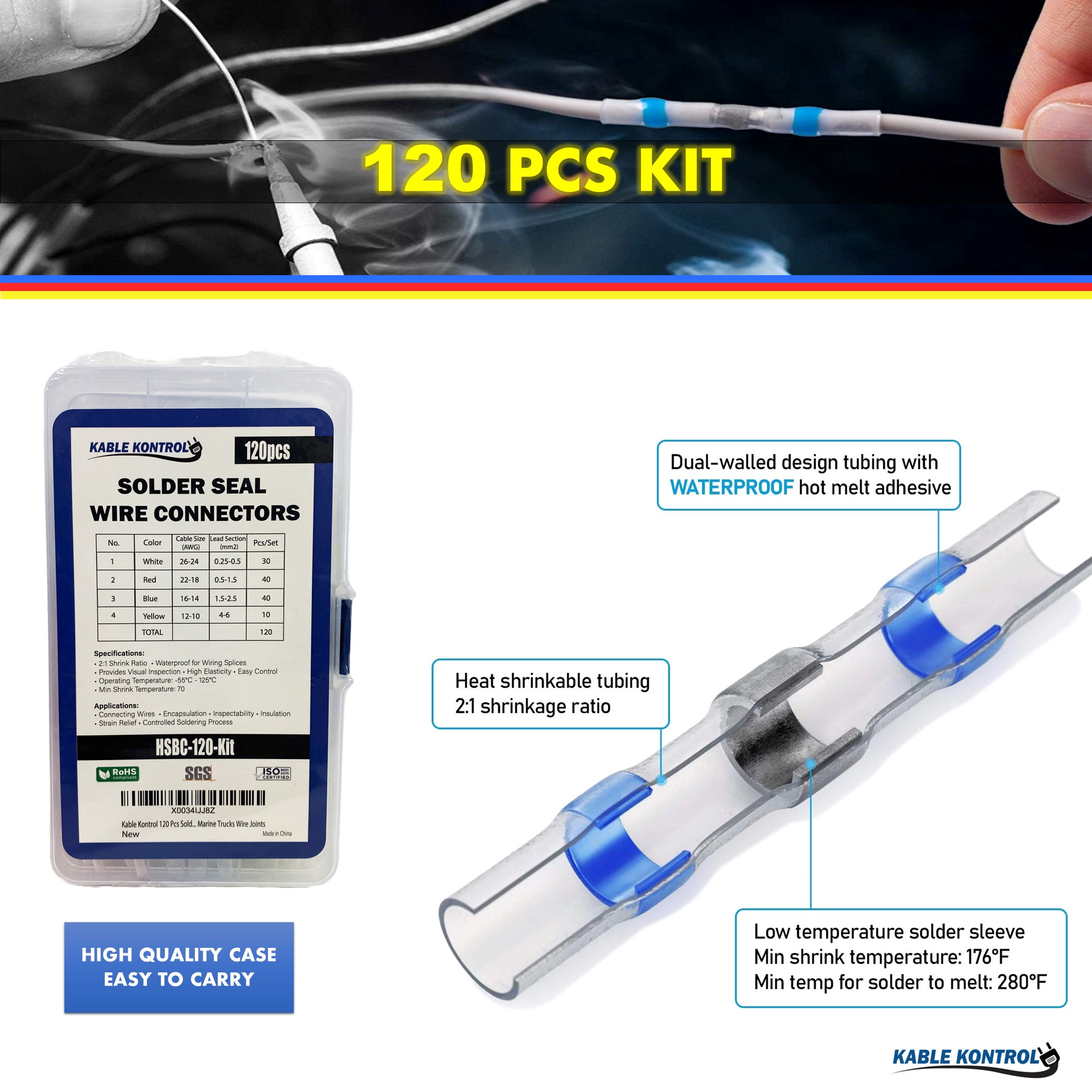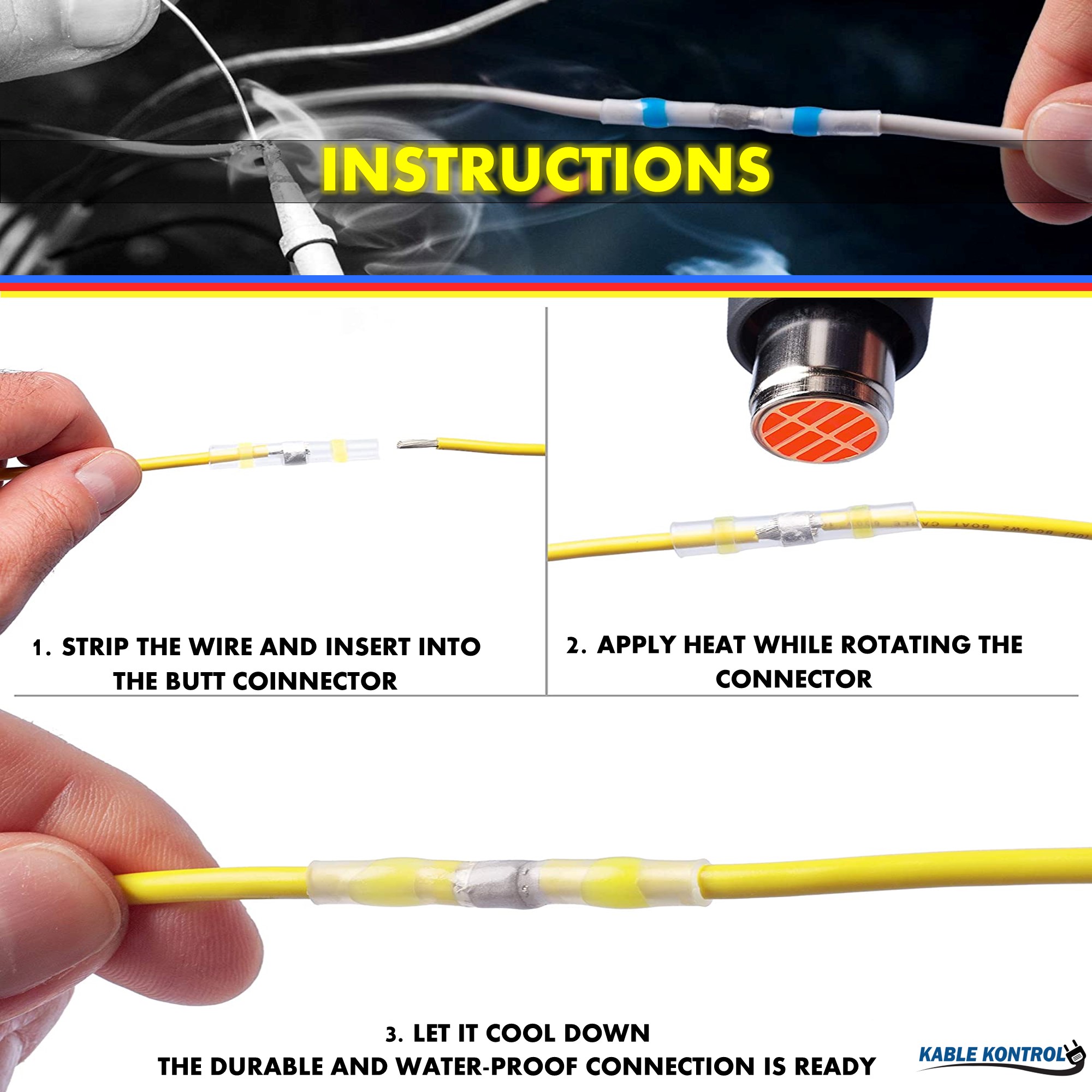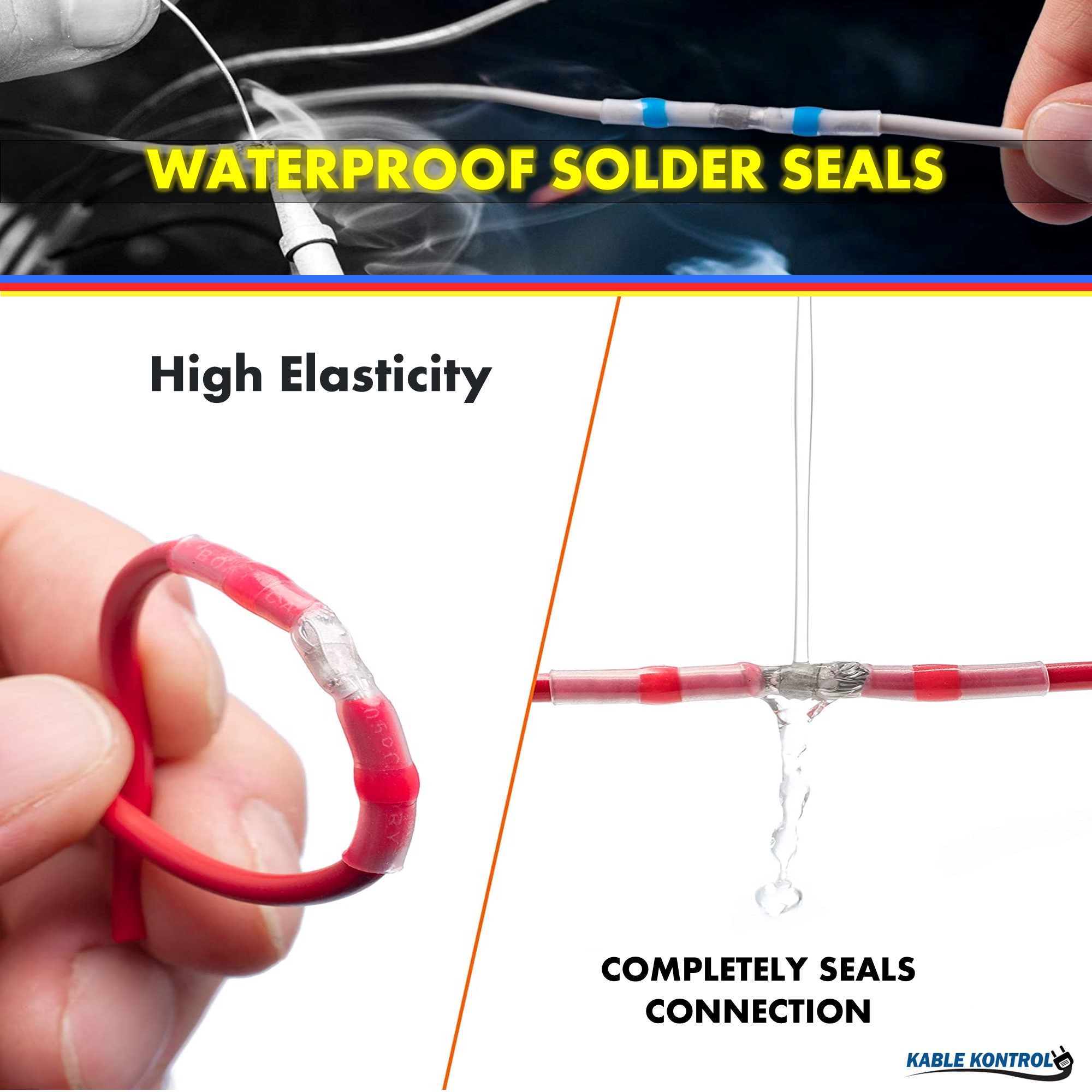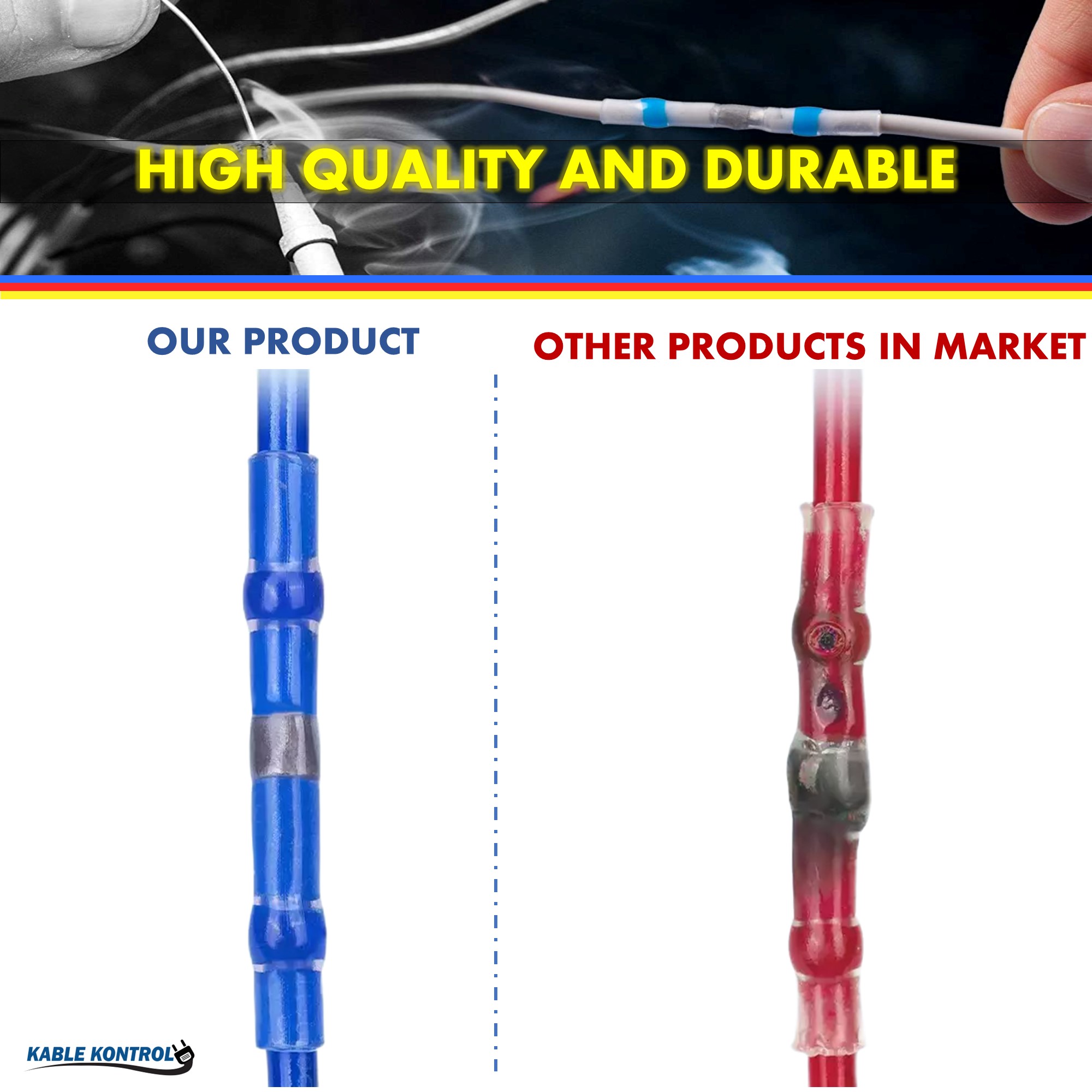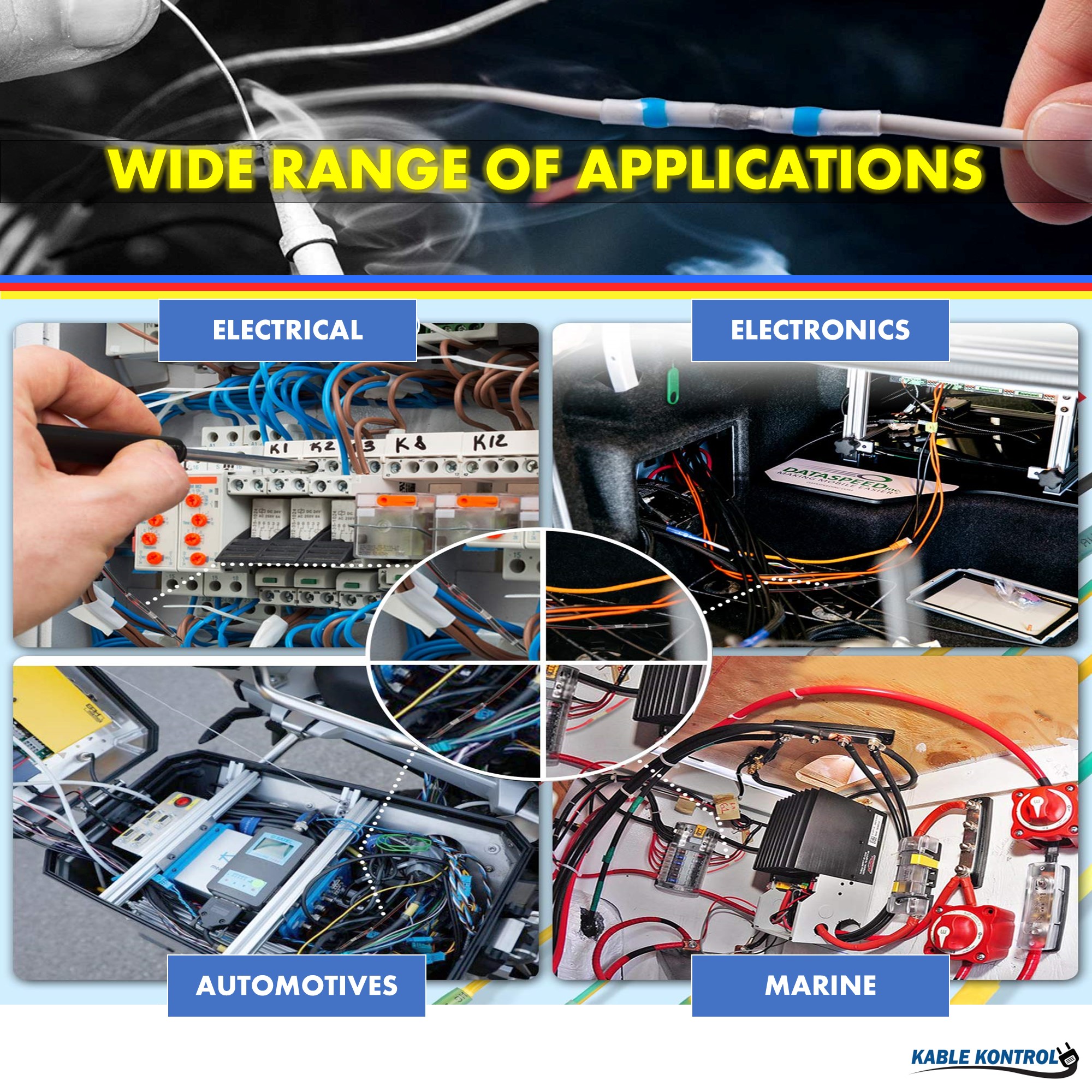 Have a question that is not answered here? Please go to our Contact Us page and submit your question to us.
---
Request a Quote
Looking for a quotation ? We would be happy to help by providing a quick response, inventory status, and Volume Level pricing, when available. Please fill out the form below and a representative will be in touch with you within hours to one business day to answer any questions and quote your request.